06/19/15
I'm so bummed at myself for not continuing this blog in a timely manner; I'm backdating this entry and pretending I issued it three months ago. Part of the problem is that I haven't been scanning old photos lately.
Anyway, this photograph is of some nerds at Mason Junior High School in Waterford who got some academic awards in, I'm guessing, 1984. I'm one of them but I don't remember the award. Probably something to do with English. But possibly math.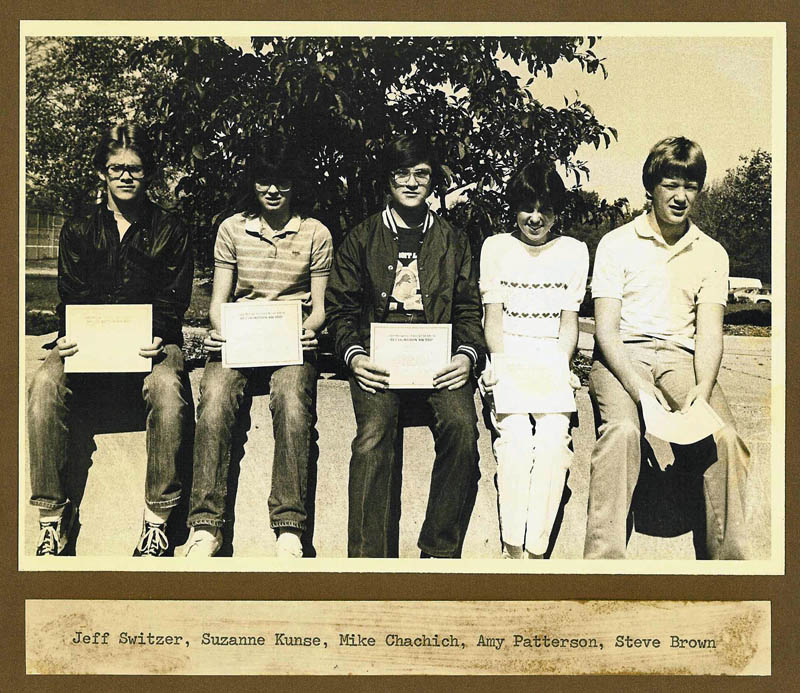 On the left is Chris Switzer. For some bizarre reason the school secretary or whoever it was that did this fancy construction paper mounting and caption typing put his name as Jeff. (He did have a brother named Geoff but he was several years out of the school by this time). Chris and I are still friends to this day. Suzanne Kunse was a year younger than us so I don't recall much about her. Amy Patterson was another one of the "smart kids" that I went to school with for years up to high school graduation at Waterford Kettering. I think I saw her once as an adult around 2007 or 2012. I believe she was doing well, had a family etc. Steven Brown I don't recall after junior high so I think he probably went to the other high school — Waterford Mott. With a common name like that it will be quite a coincidence if he or his family finds this post but stranger things have happened.